How To Choose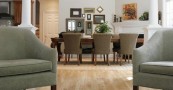 Laminate Flooring For the Best Results
Laminate Flooring offers some great choices in flooring
Consulting with others who are knowledgeable in design, colors, textures and patterns can save you time, headaches, money and years of displeasure and agony from making interior decorating mistakes with laminate flooring choices.
What does it take to ensure that your expectations are met?
Note the suggestions of choosing your laminate flooring
*Evaluate how your space will be used.  Will you have high traffic?
*What are your surroundings like?  What other textures are you
using on the walls, in furnishings, accents, pictures, accessories?
* Will you need your floors to be scuff resistant without a lot
of maintenance to be applied to them such as buffing and waxing?
Laminate flooring generally needs only minimal care and is
resistant to gauging and scuffing.  The millimeter of wear layer
determines how the laminate will perform.
*Is sound a factor in your space?  Laminate flooring is installed with a
foam underlay below it to reduce sound reverberation and
moisture absorption from the slab below.  There are different
qualities of this foam underlayment that determine how sound
and moisture proof they are.  Always look for the best underlay
you can get as they do make a big difference in noise and moisture.
*Do you like a wood look or ceramic tile look? Both looks are
available in laminate flooring.  Laminates are rated by the millimeter of
wear layer they have.  Laminate flooring has 5 layers of resin that are
fused together. Make sure your top layer has a sufficient mil wear
layer so that it can withstand traffic and abuse.  Laminate flooring
can look very much like real wood or ceramic with a lot less care
and attention.  You will love the Look and the endurance of your
new beautiful Laminate Flooring!