Calculating the New Carpet Installation Cost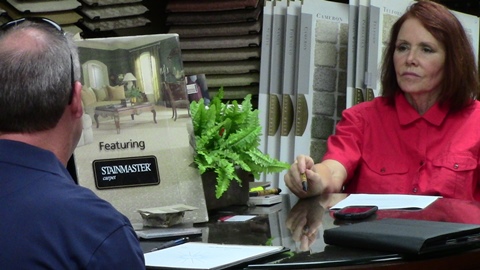 Buying a carpet can be fairly expensive.
Add the new carpet installation cost on top of that and you are looking at a pretty large bill.
Your new carpet installation price can vary a lot from one person to the next. There are a few different factors which influence this price of carpet installation.
These factors are the costs of labor, materials, the square footage, and the disposal of the previous carpet.
1. New Carpet Installation Cost of Labor
The cost of labor will differ greatly from one service to the next. For example, if you find a contractor who is operating entirely out of their van, then they will usually have much less overhead and their new carpet installation cost is much less.
This might seem like a really good idea at first, but the bigger companies might be worth the additional expense in labor.
When spending money like this, it's always better to invest in a business with a good track record and a local address.
Whether a personal contractor or a big company, always start with a written new carpet installation estimate.
Mention any additional charges that might occur during the installation and how exactly the contractor will handle the installation.
Most contractors will charge their labor by an hourly rate or a square-foot rate. You should find a contractor who charges by the square foot.
Otherwise, the company may stretch out the job longer than it needs to last for an extra dollar.

2. Material
Between the carpet and the floor beneath is a sponge padding known as the underlay. This will usually cost around $1 per square foot of carpet.
Many people forget about this additional expense until it is too late. If you are budgeting for a new carpet installation quote, don't forget to average this cost of material into the total.
There are also grippers needed at each doorway and they cost between $3 – $5 a piece. All together, the cost of materials isn't usually too high.
3. Square Footage
This has to do with how large the carpet is that you need installed. This is always the largest expense in the project.
Some contractors will also estimate their cost of labor based on the square footage.
The cost of material is determined by the square footage as well. The larger the room or carpet is, then the more that you can expect to pay.
4. New Carpet Installation Cost of Disposal
Finally, you need to dispose of your old carpet. This can cost more or less depending on your local area, but you can expect to pay around $1 per square foot.
Maybe you have some friends or family who can help you dispose of it for a lower price? The contractor installing your carpet will charge more if he handles disposal as well.
It is best handled prior to the installation if you want to save the most money.
There are several ways to save money along each step of the way. Installing a new carpet does not have to break your wallet. Remember these four factors influence your new carpet installation cost.