What Affects the Cost to Install Ceramic Tile?
Before you begin upgrading your flooring to tile, you want to know, what affects the cost to install ceramic tile.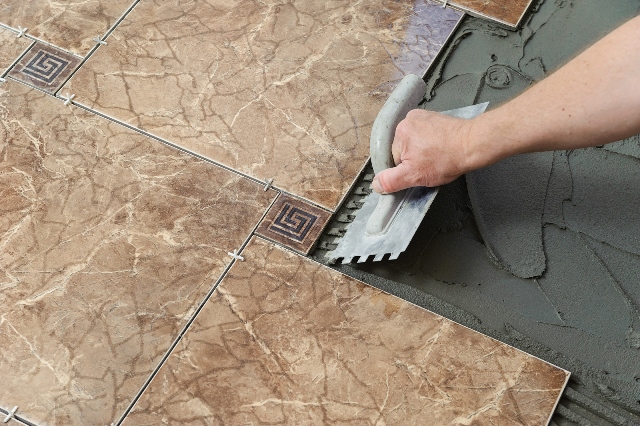 So you've made the decision to go with ceramic tile as the perfect flooring finish for your new project. This isn't a surprising decision for many people considering that there are many different designs and styles of ceramic tile that allow for the full array of looks and styles that you could possibly want.
However, tile has a reputation for being rather expensive to install and ceramic tile in particular carries that reputation.
Factoring the Cost To Install Ceramic Tile
There are some very valid reasons for this general belief. The cost to install ceramic tile can vary quite a bit depending on the specific job at hand, as well as the specific type of ceramic tiling that you choose to use. The price for a square foot can vary tremendously and because of that, it's important to understand every part of what goes into a final price.
I. Cost of Base Materials
One of the major factors in figuring out the cost to install ceramic tile starts with knowing the cost of the base materials. Not all tiles are the same. In fact, some brands of ceramic tile can be over twice as expensive as others. This difference in the basic materials being used will make a big difference.
Also bear in mind that it's not just the tile itself that count among materials. You also need to look at tools used as well as the measuring tape and epoxy to create a long-lasting ceramic floor.
II. Location of Work
There's no question that location has a lot to do with pricing, as well. Obviously raw materials, labor, and demand are going to be higher in major cities than they are in smaller towns. As with anywhere, this means that location can affect the pricing for putting in tile on every single level whether you hire a professional to help out or decide to do it yourself after buying the materials. This means that where you are will make a huge difference when it comes to the overall pricing with the flooring.
III. Exact Type of Ceramic Tile
Finally, you can't underestimate how much the exact type or brand you choose affects the overall cost to install ceramic tile. If you're going with a more luxury or well-known name brand then you are going to have to shell out more money than if you're going with something more basic or generic.
This doesn't mean you should have to downgrade if you're working on a budget. There are many different options and the key is making sure you get a tile style or design that you really love. After all, this is the floor that you will have to live with so make sure you get yourself a look or style that you know you will love.
In Conclusion
Tiling any room will end up being a major expense, but this is an expenditure that is often worth every penny. A beautifully tiled floor is a wonderful reward that can be enjoyed with every single view. Once you understand how to manage the cost to install ceramic tile, you can enjoy the wonderful experience for the life of your home.


Cost To Install Ceramic Tile