The Pros And Cons Of Laminate Flooring With Pad Attached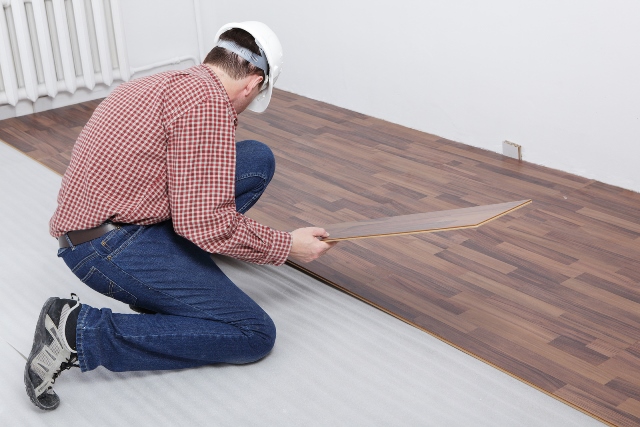 Laminate flooring is all the rage for creating a natural, clean wooden look in the home. The latest versions are laminate flooring with pad attached and there are many benefits as well as some disadvantages to opting for this type of flooring rather than conventional laminates.
The Advantages of Laminate Flooring With Pad Attached
The attached pad means that no additional underlay is necessary to install the flooring correctly.
An underlay is normally necessary to reduce noise, damp proof the flooring and provide an even, cushioned surface to protect the laminate from damage. The attached pad provides all these benefits.
In addition, choosing laminate flooring with pad attached will save you both time and money.
While the flooring is slightly more expensive than the conventional types, you don't have the additional cost of purchasing a suitable underlay which will save you money at the end of the day.
You also won't have to take the additional time to install an underlay before laying the flooring. The installation process without an underlay is much simpler and more efficient with padded laminate flooring.
There are a wide range of padded laminates to choose from so your won't have to compromise on style and quality for the convenient installation and decreased cost.
Disadvantages of Laminate Flooring With Pad Attached
Some experts believe that the attached padding does not provide the same level of noise reduction, damp proofing and leveling that using an underlay would.
This may be true for some flooring types where the padding is not thick enough or does not have the best quality waterproofing measures.
The pads also create gaps between the insulation whereas an underlay provides a continuous flow of padding and protection. These gaps can let heat, noise and water escape.
Another disadvantage is that the padding seems to be more vulnerable to wear and tear creating an uneven floor surface.
This also means that the benefits form the padding decreases as time passes and the padded laminates may need to be replaced sooner than flooring with an underlay.
Use A Higher Quality Laminate Flooring With Pad Attached
However, if you opt for padded laminate flooring that is of a high quality, these issues should not arise.
The padding should swell to close any gaps and have water resistant qualities that equal or even better those of a regular underlay. Ensuring that you buy a quality product can mean that you get all the benefits without having to be concerned about the disadvantages.
laminate flooring with pad attached